Hur lägger man in bilder?
Om bilden finns på en internetserver, tex att den redan visas på en hemsida eller ligger på en dataserver, så kan du kopiera och klistra in den kompletta bildlänken i ett inlägg och trycka "Enter" så visas bilden.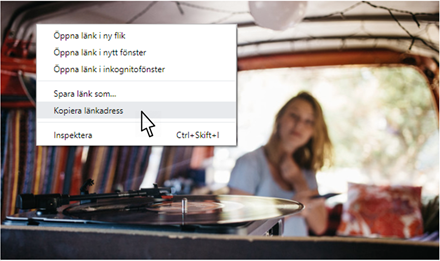 Du måste själv kontrollera att det är ok att du använder bilden och i förekommande fall anger bildkälla/fotograf.
När du har klistrat in bilden kan du dubbelklicka på den för att anpassa storleken.
Om du har bilder på Dropbox:
Quote

Here is the step by step instructions:
 

Copy Dropbox link of the image file that you want to share. (Right click on image file in your Dropbox folder and choose Copy Dropbox Link). You should have something similar to this: https://www.dropbox.com/s/tg0cfa565aue4ak/zoo.jpg?dl=0
 
Just delete dl=0 at the end of the link and replace it with raw=1
Now your link that you gonna use should look like this: https://www.dropbox.com/s/tg0cfa565aue4ak/zoo.jpg?raw=1

 

Basically, what you are doing by adding the raw=1 to the end of the link is hotlinking it. That's is sharing direct download link to the file. Anyone who clicks on hotlinked file will not see any of the Dropbox frames, logos, etc. It works for any type of file that you share.

 
Euphonia hyr även serverplats för programvara, databas, bilder och annan media.
De medlemmar som har gjort minst 250 inlägg får använda denna serverplats, och kan då lägga in bilder med den funktion som finns i inläggseditorn och ser ut såhär:

Collections